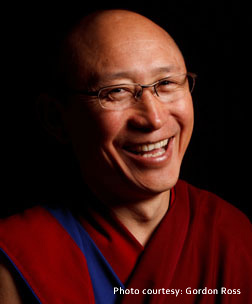 Geshe YongDong was born in the village of Nagpa, Amdo, Tibet in 1969. His childhood years were spent much like that of any other Tibetan boy at that time. He had a large extended family of many aunts and uncles who took on the job of parenting. He attended the Chinese school however; an uncle secretly taught him some of the Tibetan language by using their fingers to trace out the alphabet in the snow.
When he was 10 years old, he was taken by one of his uncles to live and work with the Nomads, herding sheep and yaks in the Himalaya Mountains. It was lonely and dangerous work for a young boy, traveling alone through the cold and dark, sometimes for many days without seeing another human being. But there was enough food to eat and gave him his first experiences of silence and being alone with ones fears.
Geshe YongDong decided to become a monk when he was only seven years old. His mother had died and he vividly remembers seeing monks in his home chanting and praying. One young monk made a strong and lasting impression on him. At first, YongDong's family objected to his desire to become a monk, wanting him to join them in the family business. It was not until the death of his grandmother, six years later, that his family finally gave him the blessing to enter a Tibetan monastery. He was 13 years old.
He entered the Nangzhig Bönpo Monastery, the largest Bön Monastery in Tibet, and took the "Getsul" monks vow. At fifteen years old, Geshe YongDong began studying logic, paramita (perfection), the middle way and traditional studies of Tibetan grammar, and poetry. At 16 years old, he took his "Gelong" monk's vow from his beloved root teacher, Gyaltsap Tenzin Wangyal Rinpoche.
GesheLa participated in many tantric rituals and Dzogchen retreats. One retreat known as the "Dark Retreat", required sitting in complete darkness for 49 days. He also spent three years studying ritual and sacred dancing, and the flute. He is an accomplished flute player and had the honor to play for H.H. the 14th Dalai Lama in Tashi Kyal Monastery in India.
His studies also included debating, chanting, and drumming. His Dharma studies included Sutra, Tantra and Dzogchen, Hinayana, Mahayana, and all schools of Tibetan Buddhism: Bönpo, Nyingma, Sakya, Gelugpa, Kagyupa.


In March 1992 at age 24, after debating on Sutra and Tantra for three days with hundreds of scholars; he was awarded the Rajampa Geshe degree. It takes a minimum of nine years of study to receive the Geshe degree, the highest degree awarded in Tibetan monastic education.
In the spring of 1992, Geshe YongDong with 10 other Tibetans, escaped from Tibet into Katmandu, Nepal. With the help of a Nepalese guide, they walked for 10 days through the Himalaya mountains. He then travelled to Dharamsala, northern India to meet with H.H. the 14th Dalai Lama.
Then once again, he began studying in the largest Tibetan Buddhist monastic universities of Sera and the great Bönpo Menri Monastery in India. Geshe YongDong did in-depth studies on Sutra and Tantra including Dzogchen, both intellectually and practically under His Holiness the Menri Trizin and the great master, Bönlop Trinlyi Nyima Rinpoche.
At Sera Monastery University, he again went through all the main Dharma studies, in particular, middle path philosophy Madhyamika, under the instruction and guidance of Geshe Thupten Rinchen and Geshe Tsondu Kongpel for three years. Geshe YongDong also received many teachings, transmissions and empowerments from H.H. the 14th Dalai Lama including: Yidam Jikshag (a Tantric Deity), one Madhyamika teaching called (Gongpa Rabsal) and Lam Rim – the path to enlightenment (both Lama Tsongkhapa teachings), and the Kalachakra empowerment.
GesheLa is the author of several books, poetry and a thesis:
Books: "Introduction to Bardo Meditation"; "Knowledge of the Land of the Snow"; "The Life of the Son of the Snow"; "Collection of Philosophy & Conduct of the Middle Path"; "The Ancient History of Tibet".
Poetry: "The Wild Yak of the Snow Mountain"; "Amala, The Treasure of My Heart".
Thesis: "The Principle of the Five Elements".
GesheLa travelled to Paris, France in 1999, to teach at the Yungdrung Bön Centre there and is recognized as one of the Masters of Bönpo by this organization. More information is available from their web site: www.yungdrung-bon.net. He is also featured on the Bönpo Menri Monastery website at:www.tibetanbon.com.
In the fall of 1999, Geshe YongDong found his way to the small northern community of Kitimat, B.C., Canada. There he met and connected with his "adoptive" mother and sponsor and, after many months of waiting, he was granted "refugee" status by the Canadian government. It was during this time that he began learning about "western" culture and traditions and the English language. He began to feel comfortable speaking English and started teaching Buddhist philosophy in English, to a group of students.
In 2001, GesheLa moved to Courtenay B.C., Vancouver Island, Canada. He began teaching philosophy to students in his home and in the North Island Colleges located in Courtenay, Campbell River and Pt. Alberni.
Due to the large number of students and the overwhelming response from the community, in January 2003, Sherab Chamma Ling, Tibetan Bön Buddhist Centre, was officially formed with GesheLa as its Resident Lama. In May 2003, a rental room was obtained to hold regular teachings and meditation practice. Through the cooperation and support of many sangha members, the room was quickly transformed into a lively and warm temple for practice, prayers, meditation and chanting.
GesheLa travels regularly to teach students in Vancouver, Quadra Island, Gabriola Island and Nanaimo. He conducts workshops and talks at Malaspina University in Nanaimo B.C.
GesheLa and the centre offer twice a week philosophy teachings, Spring & Fall three day retreats, Tibetan language classes, traditional Tibetan astrology calculations and consultations. In addition, several sangha events are held throughout the year including a yearly Losar (Tibetan New Year) celebration and a Saka Dawa (Buddha's Birthday) one day retreat.
The centre has hosted several visiting monks. A web site has been created to keep everyone informed of the schedules and teaching dates. www.sherabchammaling.com.
Geshe YongDong helps to support monks in three different monasteries: Nangzhig in Tibet, Norbutse in Nepal, and Menri in India. In addition, several students and sangha members have taken on the responsibility of supporting individual monks.
GesheLa received "refugee" status from the Canadian government in 2000; and in May 2007 he became a Canadian citizen in a moving ceremony in Courtenay B.C.
Geshe YongDong has a dream and an objective to build a centre in the Comox Valley, Vancouver Island, Canada. The centre will hold a shrine room, a teaching and meditation hall, cabins or rooms for individual retreatants. His plan is to also invite other monks from Tibet and India to teach classes and share their culture with western students.
He also has a larger dream and a commitment to introduce, teach and establish YungDrung Bön Buddhism throughout Canada.
The ancient Tibetan YungDrung Bön Buddhist tradition is Tibet's oldest spiritual tradition. For centuries the Bön dzogchen teachings were kept secret, accessible only to a very few. YungDrung Bön is Geshe YongDong's lineage and he is one of only a handful of masters of the Bön dzogchen tradition, living in the west and qualified to give teachings and transmissions.